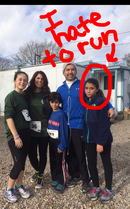 With the creation of Kids Run Long Island, I have had a lot of support and positive words from family and friends. It has been wonderful to explain the goals of offering running programs to kids in low- to moderate- income schools during the school day to ensure it is accessible to every child. I love explaining how the program will make running a fun activity with games and relays. And I'm excited for our kids to complete their first family fun run with their parents and teachers supporting their accomplishment.

Recently, a friend said to me "To be honest with you, I hate to run. So many people can't run when they are older. Don't you think a lot of students will stop running as soon as the program is over. Running isn't for everyone."

Of course my friend is right. Running is not for everyone. Many kids who complete my Kids Run Long Island running program will not keep running as adults. Many will find other sports to fall in love with. Many will learn that they just don't like to run.

Kids Run Long Island is about running and being healthy but it is also about something else.

I have three kids. My beautiful, sassy, strong middle child HATES TO RUN. She absolutely hates it. And I am a running coach. I teach kids and adults to run every day. This is what I do and this is what I love. My middle daughter has completed many of my running programs and she also completes two 5k (3.1 miles) races each year. Even though she HATES running, she knows that she will run those two races every single year. It is expected of her and she has done it successfully for the last 5 years.

See, my daughter who hates to run- if you ask her if she has ever run a 5k, she would say in a very loud and clear and confident voice, "Yes." She may say a few other things like "I hate it!" or maybe even "Mommy makes me." but she will always says "Yes, I can do that." And she is very proud of that.

Every time our kids say they can do something challenging, it matters. Every yes equals a success. It builds their confidence and self-worth. It teaches them slowly to view themselves as strong and confident individuals in some part of their lives. It is so much better than the answer "no" or "I don't know."

Kids Run Long Island is definitely about running and being healthy. It is absolutely about making fitness fun and working as a team. But it is also about kids being given the opportunity to say "Yes" to a new challenge and believe in that answer. I think every "Yes" counts in building our kids up and making them feel strong both mentally and physically. And that is truly what Kids Run Long Island is about.

Kiersten Bartolotta is the Executive Director of Kids Run Long Island, a non-profit with a mission to inspire kids to be the best they can be through healthy living and fitness at Long Island schools. She is always in search for schools/parents that want her programs for their students, and support from companies and the pubic who want to make a difference in Long Island childrens' lives through donations, sponsorships or volunteering time.